Bariatric Surgery Conquers Fatty Liver Disease
Bariatric surgery resolves or significantly relieves nonalcoholic fatty liver disease (NAFLD), researchers recently reported at the 2005 annual meeting of the American Surgical Association in Palm Beach, Fla.
In 70 patients who had undergone bariatric surgery, liver biopsies taken one year after surgery showed that NAFLD had resolved in 26 patients (37%). Incidence of severe NAFLD (grades 2-3) dropped to one-tenth of levels before surgery, from 57.1% to 5.7% of patients.
"This study is important because NAFLD has become the most common cause of liver disease, and is leading to liver failure in increasing numbers. We can improve it, or reverse the disease, by dramatically reducing obesity and the components of the metabolic syndrome, which is thought to be intimately involved with NAFLD. We have also shown that it is not only safe but beneficial to operate on patients with advanced degrees of fatty liver—as opposed to not very long ago, when surgeons felt compelled to abort operations when confronted with diseased livers," said the study's lead author, Samer G. Mattar, MD, an assistant professor of surgery in the Mark Ravitch/Leon C. Hirsch Center for Minimally Invasive Surgery at the University of Pittsburgh Medical Center.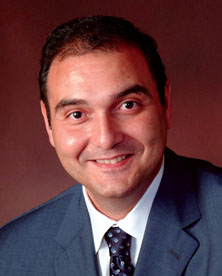 Samer G. Mattar, MD
Incidence of fatty liver disease has been rising over the past decade, along with obesity. Obesity is by far the most significant risk factor for NAFLD.
NAFLD consists of a spectrum of liver disease, ranging from simple steatosis to steatohepatitis, cirrhosis, liver failure and hepatocellular carcinoma. It is closely connected to the metabolic syndrome, the group of health factors linked to heart disease, stroke and diabetes.
"This study shows that surgically induced weight loss is an effective treatment for NAFLD. Medical therapies do not reverse the disease. In all these patients, surgery resolved or significantly improved their disease," said co-author Philip R. Schauer, MD, chief of minimally invasive general surgery and director of bariatric surgery at The Cleveland Clinic.
Investigators were pleased that no patients in the study showed any worsening of their liver disease, which has been reported in other studies. The majority of patients had laparoscopic Roux-en-Y gastric bypass (n=51), while the remaining patients had laparoscopic sleeve gastrectomy (n=23) or laparoscopic adjustable gastric banding (n=6).
One year after surgery, 14% of patients had metabolic syndrome, compared with 70% at the start of the study. Results from liver histology showed a decline in postoperative fat scores (2.38+/-0.75 vs 0.48+/-0.65; P<0.001), inflammatory grade scores (1.18+/-0.69 vs. 0.58+/-0.54;P<0.001) and fibrosis staging (1.29+/-1.04 vs. 0.87+/-1.01; P<0.01).
Proponents of restrictive bariatric procedures applauded the study, saying that the procedure shows a clear advantage over malabsorptive operations.
"It's reassuring that both the laparoscopic gastric band and the laparoscopic gastric bypass—the two most commonly performed procedures now—provide safety for the liver. This certainly couldn't be said for the malabsorptive operations that were done in the distant past, the jejunoileal bypass, and certainly there's still some question about the complete safety of the biliopancreatic diversion," said John B. Dixon, MD, an associate professor and head of clinical research at the Australian Centre for Obesity Research and Education, Monash University, Melbourne, Australia.
The University of Pittsburgh study is the second major study to conclude that weight loss following a restrictive operation can improve the stage and grade of NAFLD. A study from Dr. Dixon's group, in the journal Hepatology, reported that 23 severely obese patients who lost weight after laparoscopic banding had major improvement in or resolution of abnormal liver histologic features associated with metabolic syndrome (Dixon JB. 2004;39:1647-1654).
However, other studies looking at patients who underwent traditional malabsorptive operations raise concerns about the potential for liver damage from weight loss surgery. Many researchers in the bariatric field were troubled by the findings from a report, published last year in Surgery, in which a proportion of patients who required reoperations developed mild fibrosis after their initial surgery (Kral JG. 2004;135:48-58).
Still, the authors concluded that the metabolic syndrome of obesity increases liver fibrosis and cirrhosis, and is treatable by substantial weight loss after malabsorptive surgery.
Dr. Dixon said most of the research indicates that the NAFLD and the associated liver problems will improve with weight loss as long as the weight loss is done in a safe way.
Researchers and clinicians have voiced concern that too rapid weight loss could result in increased liver damage, perhaps temporarily. Australian and American investigators are conducting studies in which patients undergo repeat biopsies at earlier intervals after surgery; the results should provide a better understanding of histologic changes throughout the first year of weight loss, said Dr. Dixon.
Researchers also want to look more closely at patients who have cirrhosis before weight loss surgery. Two patients in the University of Pittsburgh study had cirrhosis; neither case was reversed.
Of the 70 patients in this study, mean age was 47+/-9 years; 44% were male, with an initial body mass index of 56.5+/-10.8. They underwent intraoperative biopsies, and a second biopsy an average of 14 months later.
The study confirms that intra- and postoperative liver biopsies can be performed safely in obese patients, said Dr. Schauer. He encouraged more surgeons to do biopsies during surgery to check for nonalcoholic steatohepatitis (NASH) and to follow up with postoperative biopsies on patients with liver disease.
"Clinicians should consider doing biopsies more because NASH is not a benign disease, and if the patient still has residual changes after weight loss, then they should be measured long-term," he said.
The true incidence of NAFLD is unknown. A report noted that NAFLD may be the most common liver disease in the United States, and is probably underestimated as a cause f or cirrhosis (Sass DA. Dig Dis Sci 2005;50:171-180). It is expected that as many as 95% of individuals with severe obesity have NAFLD.
Reference:
The Original Article Appeared on Bariatric Surgery News
ISSUE: JUNE 2005 | VOLUME: 32:06
URL: http://www.generalsurgerynews.com/ViewArticle.aspx?d=In%2bthe%2bNews&d_id=69&i=June+2005&i_id=85&a_id=3773